The American Military Museum has been collecting, preserving, restoring, and sharing the largest inter-service collection of military equipment in the Western United States for 59 years.  Come and visit our facility in South El Monte and check out the collection for yourself.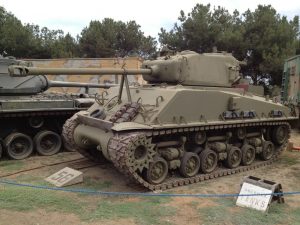 About the Museum
The American Society of Military History is dedicated to preserving the rich history provided by the vehicles that the military has used.  The museum is located in the Whittier Narrows Recreation Area in South El Monte, CA.  The museum has been preserving the history provided by vehicles since 1962 as a California Non-Profit Educational Organization.  The museum holds an important collection of some 178 vehicles on display, a collection that is hard to match.
The museum features vehicles from World War One, World War Two, the Korean War, the Vietnam War, the Cold War, and even some from Operation Desert Storm.  The museum has a commitment to education, and by visiting the museum you can see how vehicles advanced from horse drawn artillery to self propelled cannons.
| | |
| --- | --- |
| Monday | Closed |
| Tuesday | Closed |
| Wednesday | Closed |
| Thursday | Closed |
| Friday | 10AM–4:30PM |
| Saturday | 10AM–4:30PM |
| Sunday | 10AM–4:30PM |
Address: 1918 Rosemead Blvd, South El Monte, CA 91733