Enjoy the historical uniqueness of the Californian culture on displays in a building that has a story to tell as well. The building is an antique home that renown and reputed architect Sumner P. Hunt designed and built 1894 for Roy Jones – a prospering entrepreneur who founded Bank of Santa Monica. Roy was the son of a senator from Nevada, John Percival Jones who founded the great city of Santa Monica.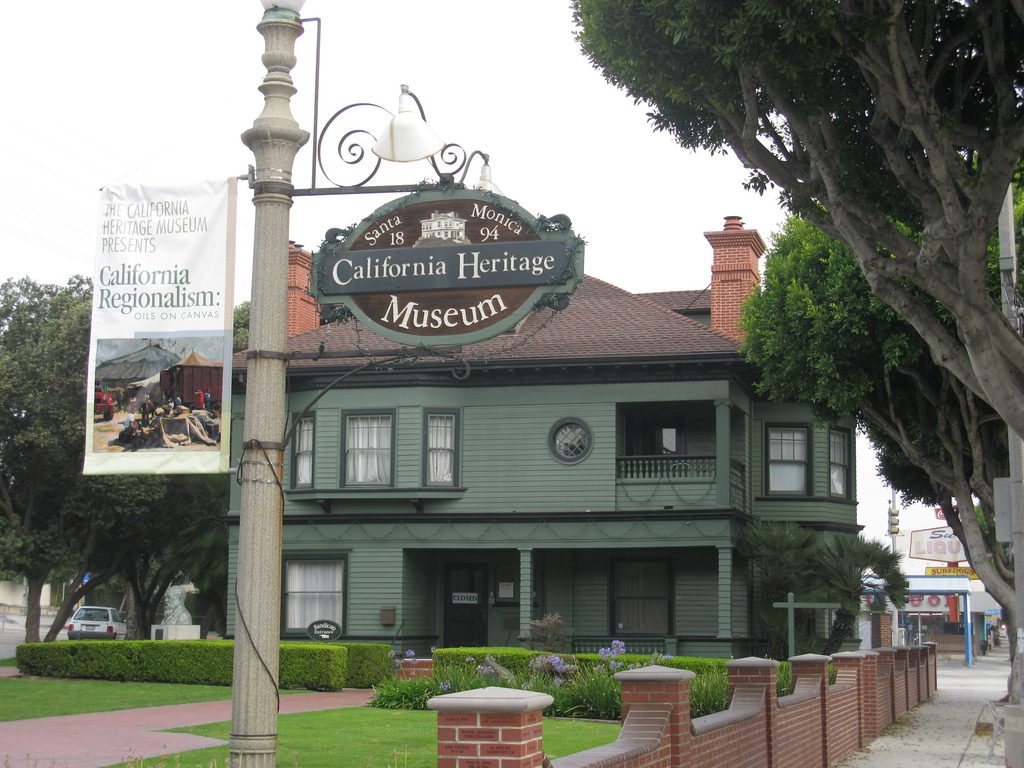 Originally located on Ocean Avenue it now stands at 2612 Main Street as a museum founded in 1979. The house is one of striking design, it combines the architectural tastes of a Victorian and colonial in one fascinating structure.
Step inside and enjoy exhibits with twists and features as unique as the stories they tell. The California Museum of Heritage will delight your senses as you admire the collections, and an array of displays that highlight the strong, diverse, surviving cultures of California. You can expect to see a generous range of exhibits for everyone, from pottery and Native American textiles, to strange photography and watercolors. Journey through a glimpse of everyday life over the course of time in California. If traditional and historical arts aren't your thing, you will also see exhibits for those who admire the most eclectic things. A display of colorful fruit box labels highlight California's strong history in the fruit industry, each one displayed as little fascinating pieces of art and a look into the evolution of food labels. Your family photo album may have a few funny photo mishaps, but you have never seen photo's like this; The Museum displays an interesting collection of hilarious photography bloopers that will have you laughing out loud. Have you ever heard of the famous social club, known as the Shamrock Club?
Every tattoo tells a tale, is a popular culture display that highlights the famous parlor of legendary tattoo artist Mark Mahoney. Gangsters and celebrities have frequented the Shamrock Club making this exhibit an entertaining one for everyone, and especially admirers of the tattooing arts. The surfing and short-boarding exhibit at the museum bring you the history of the short-board, and you can feast your eyes on the over 70 rare and special surfboards on display.
The California Museum of Heritage is a great place to visit with your family and friends, there is something for everyone. With reasonable admission prices, you can appreciate the visit more. The costs are $8.00 for adults and $5.00 for students. Military, veterans, and kids under 12 admission costs are free. Don't forget to stop by the gift shop for some unique and original souvenirs. The spacious gift shop features incredible lithographs, original art, handcrafted jewelry, memorable clothing, enriching books and so much more. Featuring spectacular short-term exhibits as well as enriching permanent exhibits, locals and tourists alike can experience California through the historical Roy Jones House in a whole new light. With all this Museum has to offer, we are sure that everyone in your vacation party will have a great time.
| | |
| --- | --- |
| Monday | Closed |
| Tuesday | Closed |
| Wednesday | 11AM–4PM |
| Thursday | 11AM–4PM |
| Friday | 11AM–4PM |
| Saturday | 11AM–4PM |
| Sunday | 11AM–4PM |
Address: 2612 Main St, Santa Monica, CA 90405