More than dozen public stairways cross the hillsides of Echo Park, concrete reminders of a neighborhood designed before the cars became the dominate form of transportation.
Based on some research of city records, the first stairways—made of wood–began appearing in Echo Park in the 1890s—long before most streets were paved and the automobile became popular. Some were built by private developers,  others were partnerships between the city and private interests, including the passenger railroads and trolley systems. Some of the stairs are simply extensions of a street right of way in locations where steep hillsides made them necessary.
Some Notable Echo Park Stairways
Baxter Stairway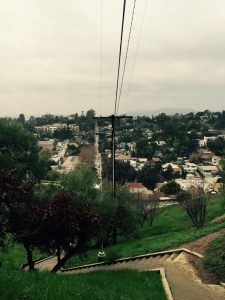 Climbing the more than 230 steps will leave you in awe or in cardiac arrest. The top of the stairs is across the street from Elysian Park and its many walking trails. Located on Baxter Street, three blocks east of Echo Park Ave.
Situated in a nice neighborhood of Echo Park, I was so happy to discover Baxter Stairs. Parking was convenient in the residential area near the bottom of the stairs. It wasn't too crowded when I went. It was also a place where I felt comfortable going alone.
Stairs are my weakness so going up and down three times was killer for me. My legs were wobbling, I struggled every time when I get closer to the top, but I kept pushing myself. At the top, you are rewarded with a nice view of downtown LA and the hiking trails of Elysian Park. It felt so peaceful. You will only encounter residents going on walks and people walking their dogs.
The stair steps were the same size and uniformed so it was not a struggle like Baldwin Hills Scenic Overlook in Culver City or Runyon Canyon in Hollywood. Yet, sprinting up and down those steps left me sore for the following two days after my workout!
Laveta Terrace Stairway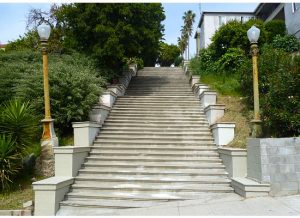 A wide, elegant stairway with multiple landings that leads to a row of palm trees at the top of the hill.  Located on Laveta Terrace, one block east of Echo Park Ave., north of Sunset Blvd.
Clinton Stairway
Twin, stairways zig-zag up the bluffs to the west of Echo Park Lake. Though the stairs are often marred with tagging and graffiti, the climb to the top offers the best view of the lake and, on a clear day, the mountains and hills to the north. Located on Glendale Boulevard, north of the 101 Freeway.
Curran Stairway
This shady stairway is often clogged with leaves but it offers glimpses of some charming cottages and gardens located along its steps. Located on Curran Street, one block east of Echo Park Ave.
Avalon Stairways. Here are two stairs that extend east and west off Echo Park Ave. at Avalon St. The western steps go up a narrow but well maintained stairway that runs along some restored homes and cottages. The eastern steps are of the no-frills variety but they switch back numerous times and at various angles up a steep hillside.
Delta & Lucretia Stairways: The Delta stairways take you past a jungle of giant agaves and up a hillside with some cute cottages, homes and canyon views. At the top of the hill, turn left and you will soon go down the narrow steps leading off Lucretia Avenue and through another tangle of plant life and glimpses of interesting, hillside homes. Located on Delta St., one block west of Echo Park Ave.